MASFRIJOL: Another Reason for Children to Finish Their Beans
When children in the US are told to finish their beans, because children in other countries are starving, most US children roll their eyes. However, undernourishment is very real for the children in the Guatemalan Western Highlands. The indigenous Mayas of the Guatemalan highlands are the most under-nourished population in the Americas and the 6th most under-nourished in the world. The MASFRIJOL project of MSU's Legume Innovation Lab has been working to change this status.
MASFRIJOL project leader, Assistant Professor Luis Flores, explains that the Maya have been pushed out of the most fertile lands in Guatemala, which are controlled by large-scale producers of agricultural exports. In Mayan communities in the Highlands, basic services are scarce. There is one school and one hospital for every 100,000 people. Many communities lack electricity and sanitation systems. The soil is not very deep, and below that is limestone. Many families have plots of land that are insufficient in size to grow enough food to sustain themselves.
MASFRIJOL is a four-year project funded by the US Agency for International Development (USAID) geared towards improving the nutrition of entire families by promoting greater consumption of beans. Beans contain building blocks for proteins that the more-often-consumed corn-based products lack. While beans and corn were domesticated in the Americas and provide a wholesome diet when combined together, many highland families consume far more corn than beans. There are a number of reasons for this. Some families who live on less than one dollar a day cannot afford to eat beans; they consume primarily tortillas. More affluent families may avoid beans because they see them as "poor people's food." While corn is traditionally more central to Mayan culture than beans, today corn is also actively promoted by food processing companies that market corn-based snacks through advertising. MASFRIJOL seeks simultaneously to enable farmers to increase their production of beans and to encourage highland families to consume more beans.
This has required a multidisciplinary approach that involves agronomists, plant breeders, and nutritionists. The MASFRIJOL team thus includes Luis Flores and Celina Wille from MSU's Legume Innovation Lab and Sharon Hoerr, professor emerita of Nutrition and Food Science. MASFRIJOL facilitates Highland farmers' access to improved varieties of beans that are better adapted to the soil and climate conditions of the Guatemalan highlands and more productive than more traditional varieties. The project has also focused on developing and teaching new techniques for storing harvested beans, so that families can consume them over a period of many months. But the project is also working to make beans more appealing, promoting new bean recipes and developing its own promotional jingle that encourages Guatemalans to "frijolizar" their diets. Over 500 men and women received two days of training about both bean production and maternal health, with the aim of preparing them to be community educators when they returned to their villages.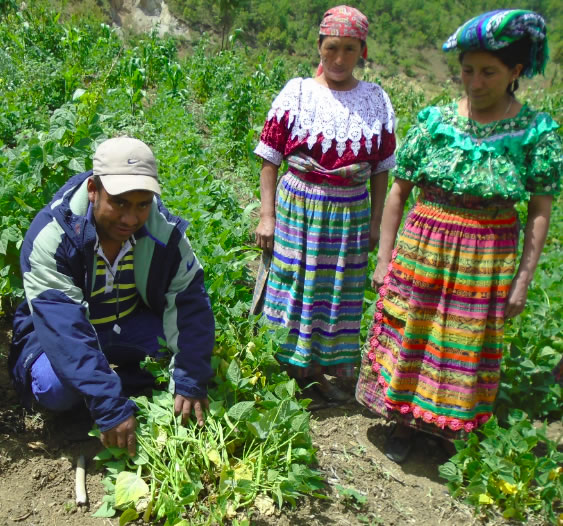 Since education was seen as a key component of the project, the team sought to be flexible in meeting people where and when it was most convenient for them. This meant traveling to rural communities in one of the project's "Frijolmoviles," which transformed into classrooms upon arrival at their destination – village plazas, backyards, etc. Each Frijolmovil carried a generator, to enable rural educators to show short videos even in villages that lacked electricity. Activities such as coloring books engaged children, who often accompanied their mothers to the presentations. Lessons about bean production included information about varieties of beans that would grow in the high altitudes and storage of beans to prevent damage by pests such as weevils and therefore extend the time for which beans can be consumed in households. Rural educators also initiated demonstration plots for seed multiplication and community gardens. Since the grant's conclusion will end the Frijolmovil trips, project leaders have worked to build sustainability into their efforts. They have sought to create a center of dissemination of knowledge in each village so that the information can be passed down.
Because merely increasing production does not guarantee increased consumption, lessons about the nutritional importance of beans and the provision of new recipes that incorporate beans also played an important role in the project's education efforts. Lessons addressed chronic malnutrition, age-appropriate weights and heights for babies and children, the nutritional value of beans, complementary foods for babies 6-12 months that include beans, nutrition for toddlers, healthy pregnancy diets, and new recipes to counter the common misconception that beans are boring. Pre- and post-tests with visual questions were used to evaluate learning among this population with low literacy. These tests demonstrate that people have learned through the innovative approach of combining agriculture and nutrition.
While the story of growing beans in Guatemala's Western Highlands may not have the fairytale ending of a story with magical beans, MASFRIJOL has worked to show that growing little beans can make a gigantic difference.