Stephanie now considers teaching as an option for her career
I was so inspired by my experience with Miss Anca and the students of 1D that I am hoping to do some form of service learning or teaching in my career.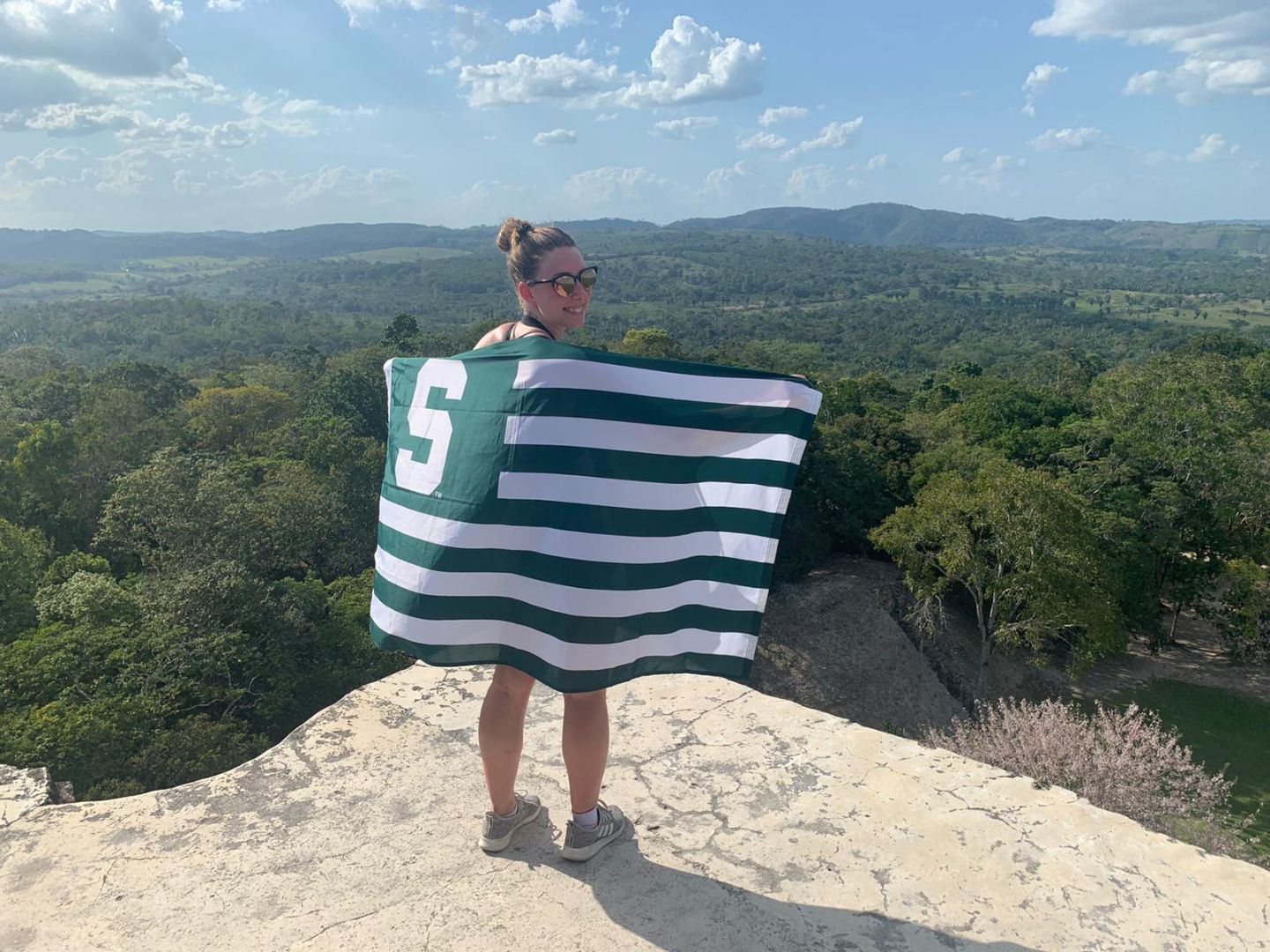 Prior to Belize, I had never been to another country. As early as 15 years old, I dreamed of one day traveling and hopefully living in a different part of the world. Part of the reason I decided to get my degree in conservation biology is because of global issues. I want to travel and understand how different parts of the world utilize or exploit the resources nature provides to them. When deciding on an education abroad experience, I was originally hoping to choose one that was based around environmental issues. However, I ended up deciding on Belize because it was within my budget and still in a tropical region of the world. Wow am I glad that I did!
Perhaps the best part of my entire program was meeting the teacher I was accidentally placed with, Miss Anca. Walking into the Sacred Heart College, the very first thing I noticed was that the buildings did not have actual windows, but wooden shutters that acted as blinds. Because we showed up later than the principle expected, we had to wait in the only air-conditioned room on the entire campus. While sitting there, the vice principle would periodically come inside to ask if a specific student was interested in a subject. Prior to realizing it was her, Miss Anca offered to take one of my classmates into her class. By some miracle, my classmate did not end up going with her. I was the last student to have a teacher and I was asked if I minded being placed into and English class. Although I hoped for a science related class, I was happy to be there and agreed to go to the English class. It happened to be Miss Anca's class!
It all happened so fast. Before I could introduce myself to Miss Anca, we were fast walking through swarms of kids trying to get to her first class of the day. The schools were not like the traditional high schools in the states, instead of being an indoor building, all of the buildings were based around the outdoors. All of the buildings had multiples rooms, however, instead of the rooms opening up to a hallway, they opened up to the outdoors. As we walked along the buildings, we would pass groups of kids that were crowding around their classrooms. Every time we would pass a student, they would say good morning Miss Anca. As soon as we arrived at our classroom, I noticed a large label in yellow saying 1D right above the door. Inside the class, there were wooden desks that were labeled 1D and a large white board toward the front of the room. Right away, every student wondered if Miss Anca and I were related. Every student in the class was so adorable and interested in who I was. I was blessed to be placed with this class all week.
My favorite experience with the amazing 1D class was on the second day I was at the school. Upon entering the classroom for their class period, Miss Anca noticed that she forgot papers at the staff lounge and left the classroom. She had all students sit in their desks prior to her leaving. Typically, the students are quite rowdy at the beginning of the classroom. However, once Miss Anca left, the students went completely silent and stared directly at me toward the front of the room. It was hilariously awkward. I decided to use the time as an opportunity to hear their questions. The entire classroom was completely silent until finally one of the most outgoing students decided to ask where I was from. None of them knew where Michigan was. Which resulted in me doing the most Michigander thing imaginable, there I was in a small high school in the middle of Belize, raising my hand in a mitten pattern. I explained to them what the mitten meant and tried my best to explain our location in the world. I believe the words cold, north and snow was the best description I could come up with! It was hilarious how quiet the kids were and how all of them looked like a deer in headlights until finally Heraldo (the outgoing student) broke the ice. Being presented the opportunity to talk to them on a fun level, allowed us to bond. I always assumed that being thrown in front of a class would be awkward and I would super nervous. Except I wasn't! I loved every second of it.
Although meeting the students was amazing, learning about how above and beyond Miss Anca goes considering the differences in the educational systems, was inspiring. She dedicates hours of her time to ensuring the kids are given the best English education possible, but she also created and implemented the after-hours tutoring program and the Saturday detention program. Teaching is her passion and it shows. I never even considered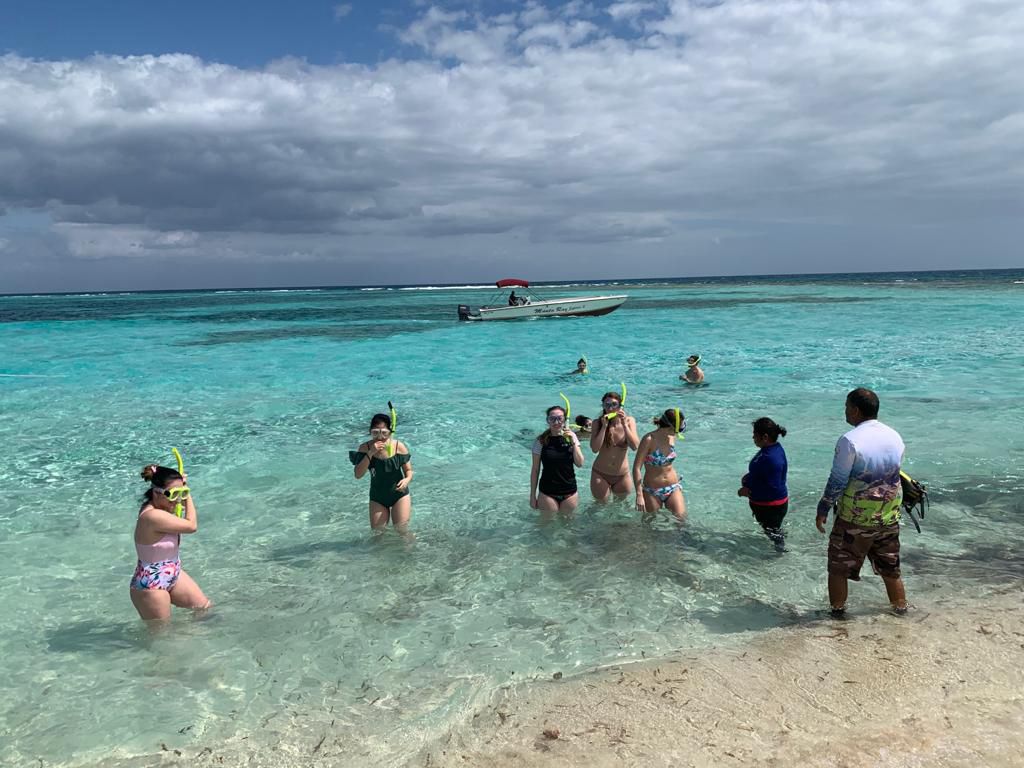 teaching as an option for my career. However, I almost feel like going to Belize was my destiny. I was so inspired by my experience with Miss Anca and the students of 1D that I am hoping to do some form of service learning or teaching in my career. Seeing another country was unreal. I loved learning about another culture and trying all of the Spanish/creole/English inspired food. This program was magical. The people were magical, and the opportunity was astounding. I am forever grateful to have been apart of such an inspiring opportunity.
Name: Stephanie Wheeler
Status: Senior
Major: Fisheries and Wildlife/Conservation biology
Hometown: Warren, Michigan
Program: Contemporary Issues in Developing Societies: Belize Spring Break